About the Academy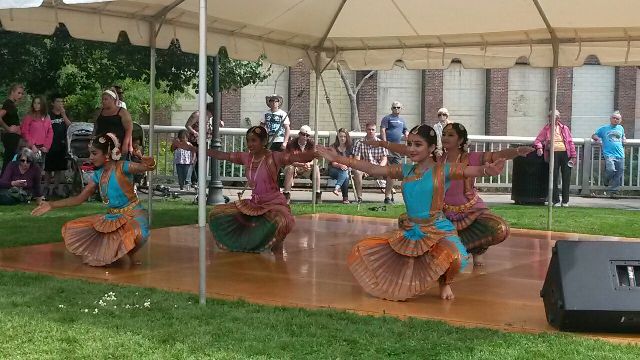 Neha founded the Chidambaram Nrityakala Academy in early 2005. Here she inspires all her students to strive for perfection and the individual focused training brings out the best in them. She is very popular in the Nashua area for her authentic style of teaching and uncompromising discipline that helps her students reach the highest standards in dance.
While she specializes in teaching Bharatanatyam and Mohiniattam she is very knowledgeable and adept with the Folk dances of India. She also teaches the popular Bollywood style dances.
Her students are primarily in the school age range, but she also enjoys teaching the classical and Bollywood style dances to adults.
She has trained and choreographed many performances for her students for dance festivals, dance competitions, fund raising events all around the New England area and some of her students have also performed in India as well. Her students won various dance competitions in the New England area.
Following the Guru-Shishya traditions in teaching, she interacts with students in trying to get the best out of every student. It is to her credit that five of her students have performed their 'Arangetram' or solo dance debut recitals since 2006 and more are on their way to achieving this milestone.
Why Learn Classical Indian Dance?
Learning classical dances makes you a BEAUTIFUL , GRACEFUL and ELEGANT person inside out. It helps tone your body and gives you a beautiful posture and a healthy glowing skin. It enchances your facial features as well.
Improves flexibility and stamina.
Boosts your physical endurance, self confidence and self esteem.
Improves attention span and memory of kids with quick reflexes. Helps you with better coordination and makes you dexterous.
The Indian classical dance technique and methodology gives you an inward gaze and thereby improves focus, concentration and self awareness.
Teaches you self discipline, perseverance and responsibility.
Brings about a good balance and harmony of your right and left brain.
Helps you with inner peace and calmness.
A deeper connection witht the Indian cultural roots and an insight into the rich Indian myhtology and the Hindu religion.
Classical Indian dance and traditional Indian culture has such great DEPTH, that it can bring about a great change in your child's development at school, other actiivites and over all personality.